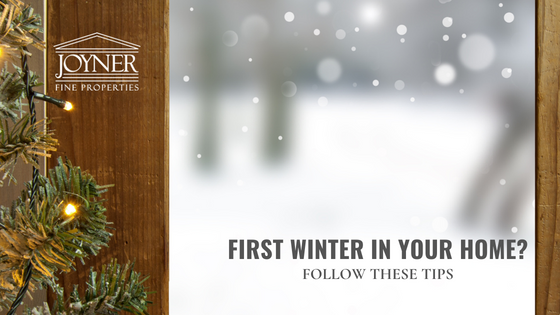 Your first winter in your home will be a test to see how it does. Even if the home inspection came back pretty good, winter has a way of pointing out things you may have missed before. Here are a few tips from our real estate agents about weathering your first winter in your new home.
Clean Out Your Gutters
Gutters can get clogged with fallen leaves and debris, especially in the fall. It's a good idea to have them cleaned out before the winter weather hits. Gutters clogged with leaves and debris won't drain properly and may back up onto your roof, causing costly water damage. 


Look for Loose Shingles
While you're clearing your gutters, take the opportunity to also check out your roof. You're looking for shingles that stick up or look crooked, signs that they may have gotten loose. Heavy snow and storms can cause further damage to an already loosened shingle, eventually creating a gap in your roof's protective layer and letting moisture into your home.


Have Your Chimney and Furnace Serviced
You may already know that your furnace should be serviced in the fall or at the start of winter. This is also a good time to change your furnace filter, ensuring you will have clean air and your furnace won't have to work too hard to push hot air into your home. If you have a fireplace and intend to use it this winter, make sure you have that serviced too. Your chimney needs to be cleaned and inspected before you light a fire in the fireplace for the first time.


Check Your Pipes
Frozen pipes can be a real problem in the winter. When pipes freeze, they can burst, causing incredible amounts of water damage in your home. You can prevent frozen pipes by ensuring all of your pipes are either within the envelope of the home or well-insulated so that they won't freeze. This is especially important with Richmond homes for sale. In areas that don't see a lot of hard freezes, you may not realize your pipes aren't well enough insulated until it's too late.


Feel for Drafts
Drafts aren't only a source of discomfort during the cold months. They're also a sign that the heat inside your home is leaking out, causing your furnace to have to work harder than it should in order to keep your house warm. Check around windows and doors. Any leaks can be remedied by caulking or installing weather stripping as needed. Extra insulation can also be added in the attic or crawl space to prevent you from losing heat through your ceiling. If you notice your heating bill goes way up this winter, you may be losing heat somewhere and causing your furnace to run overtime.


Put in Storm Windows
Storm windows are another way to protect your home in the winter. These strong, protective windows go outside of your regular windows, providing an insulating pocket of air between them and your existing windows and preventing heat from leaking out through the glass. They also can provide additional protection during strong storms that might otherwise damage your windows or cause leaks around them.
Choosing your home carefully is the best way to ensure there are no surprises during your first winter. It's important to be well-supported during your housing search by an experienced agent. Ready to start looking for a home in Richmond? Contact us today, and we'll help launch the search for your dream home.